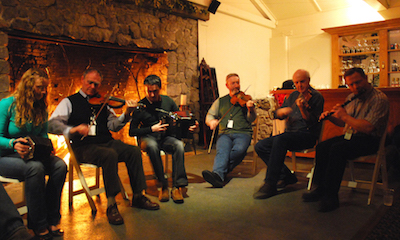 "A commanding presence on the fiddle." - The Irish Times
"His playing has power and passion... simply a joy to listen to." - Dirty Linen Magazine
"Randal Bays is one of the few Americans to have mastered the complex art of traditional Irish fiddling." - Gearoid O hAllmhurain (author of "A Pocket History of Irish Traditional Music")
"Bays is a rare beast, a true master of both fiddle and guitar."
- Cork Examiner (Ireland)
I'm also a guitarist, here's my GUITAR PAGE.

Randal Bays is an American born, Irish style fiddler who brings power and passion to the old tradition. He's devoted many years to learning not just the tunes, but more importantly the feeling of Irish traditional music as handed down by the many great fiddlers and music lovers past and present. He renders the music with an intensity not commonly heard in any genre, powered by a deep love of the music, the culture, and a heartfelt wish to share this magnificent tradition with audiences.
Randal lives in Seattle and has been seriously obsessed with Irish fiddle music for most of his life. He's recorded and toured in the US, Ireland and Europe with Martin Hayes, James Keane and Daithí Sproule (Fingal), James Kelly and many more. As Fiddler says, "Randal Bays is one of the finest Irish fiddlers one could ever hope to hear."
"About my instruments... my main fiddle is a Thomas Perry copy made sometime in the early 1800s when Perry's instruments were in great demand. My main bow was made for me by Morgan Andersen in 2008."